Over the weekend we had our friends and family over for the Super Bowl! We hosted our first Super Bowl party waaay back in 2008 when we lived in Long Beach, and we've continued the tradition ever since. My husband is a big sports guy, and I love hosting a party, so it works out great. We always put out a bunch of food, stock up on adult beverages, and we have a great time. We rent a jolly jumper every year so the kids have their entertainment too.
Sunday morning I woke up to clean the house and put up some decorations:
I also picked up these floor runners that I thought were really cute:
Cooper had to pose for some pictures when he saw these:
Love him!
We also make sure to have the football pool/grid poster every year. We buy this one(and most of our decorations, including the floor runners) at Party City. It's fun because it comes with ribbons for the winner of each quarter.
People started arriving around 2pm, and by the time kick-off came around at 3:30pm, we had over 60 guests!! Our house was FULL. And LOUD. With a whole bunch of kids running around being crazy. We ate, we drank, the football fans made a bunch of noise when big plays happened, and we watched the halftime show! I was bummed that Jennifer Lopez didn't take my advice about bringing out Gloria Estefan and the Miami Sound Machine, AND I really thought Pitbull should have been part of the halftime show not just the pregame show. But otherwise I thought the halftime show was super fun! The men in our house definitely enjoyed it! 😉 Most people were rooting for the 49'ers, so not everyone was happy with the outcome of the game, but we all had a blast.
Our lucky winners of the football grid game:
**************************
For food this year I made two types of chili, bbq pulled pork, queso dip, meatballs in marinera, Brown Sugar Smokies, shortbread cookies, and peanut butter cup cookies. I've been making these recipes for years and years, most can be made the day before and just reheated, and they're all really good! Links to some of the recipes are below:
Boiler Maker Tailgate Chili– if you're looking to feed a crowd and not spend a ton, this is your recipe. It's a great chili- lots of flavor. My husband especially loves this with some cornbread and honey.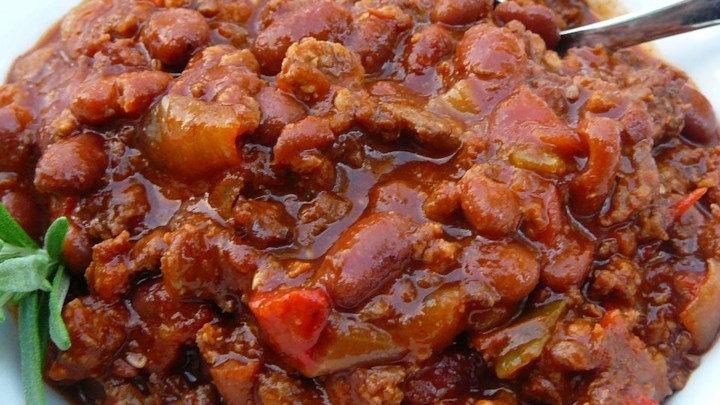 Creamy White Chili– this is great option for people who aren't big fans of traditional chili. I don't follow this recipe exactly. I throw all the ingredients into a slow cooker(with the chicken breasts whole) EXCEPT for the heavy cream and the sour cream, cook it on low for 8 hours, take out the chicken, shred it and return to the pot. Then when I'm ready to serve it, I'll add the heavy cream. I leave out the sour cream because I feel like it waters down the flavor too much. I always serve my chili with sour cream and shredded cheese on the side for anyone who wants to add it.
Bacon Wrapped Smokies– I've been making these for SO long that I'm always surprised when someone is like "OH MY GOD these are amazing! What kind of sauce are these cooked in???" Every year. So I guess they're still new to some people! The "sauce", is just brown sugar. That's it. It melts into the fat from the bacon and tastes out-of-this-world delicious. These little suckers are the number one most requested item I make.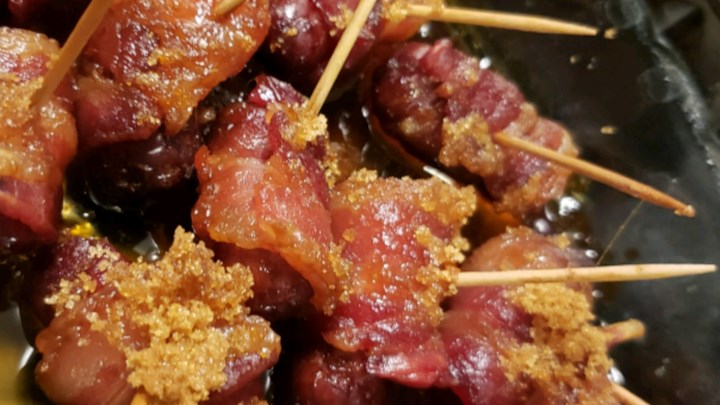 Slow Cooker Puller Pork -this is another great recipe for feeding a crowd. I don't use the pork tenderloin that the recipe call for- definitely use a pork shoulder roast(or a Boston Butt or a Picnic Roast-what ever the butcher calls it where you shop). I always get the biggest one that will fit in my slow cooker then I add enough rootbeer to cover it. Don't worry if you don't like rootbeer- it will NOT taste like rootbeer in the end. I cook it on low overnight- usually around 10 hours. Then drain the rootbeer, and shred the pork, removing any big chunks of fat. Then add a bunch of BBQ sauce and it's ready to go. I like to use Sweet Baby Ray's Brown Sugar and honey sauce. Then I serve it with rolls and extra BBQ sauce on the side.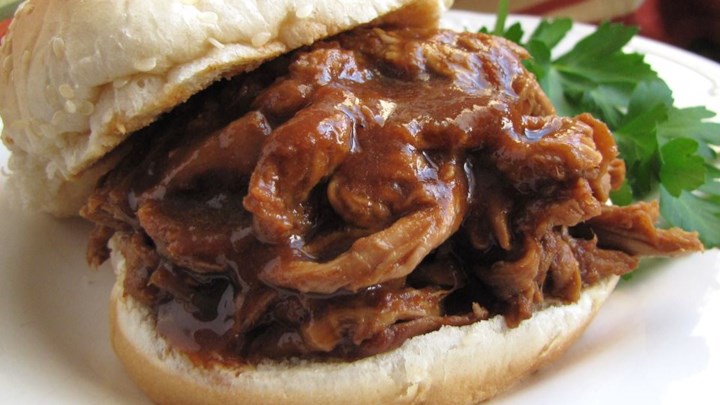 ************************
We had a great day with our family and friends! I have absolutely no interest in football- so I'm always glad to celebrate Super Bowl and the END of football season! Yay! Now we're getting closer to the season that matters most:
Hope you all had a fun Super Bowl Sunday! If anyone needs me I'll be cleaning my house for the next 3 weeks. By then I should have this place back in order 😉