Hi everyone- today I wanted to do a little blog post about the things we do to celebrate Halloween. Here in warm and sunny Southern California we don't really get much "Fall" weather, so we have to make sure we do certain activities that help to get us in to the Halloween spirit.
Decorating
We always start out by decorating our house in full Halloween style! I follow a couple blogs and they shared their "Fall" decor, which consisted of a few Autumn looking decorative pieces, maybe a fall welcome mat, or a fall wreath on the door. Our style is definitely a bit different… to say the least. For the entire month of October it basically looks like a Halloween store threw up in my house! My son really loves Halloween so we've really accumulated a huge amount of decor over the years. Sometimes our friends and family even give him Halloween decorations as his birthday gifts!
Here's a peek at the inside of our house:
As you can see it's not exactly what you would call subtle. My son absolutely loves it, so we just keep on building our collection! Here's a peek at the outside:
Halloween Store Trips
Another one of our Fall/Halloween traditions is to take a few trips to the Halloween store. We mostly go just to look- Cooper loves all the scary motion-sensor activated type decorations so we spend a lot of time looking at those. We usually pick up a couple new things to add to our collection too.
Mickey's Halloween Party
We started going to Mickey's Halloween Party back in 2015 and we've been back every year since. We always have a great time- it's one of our favorite Fall traditions. You can read all about our visit this year in my blog post: Mickey's Halloween Party 2018
Fall Foods
I always make a few fall recipes that we love like this one: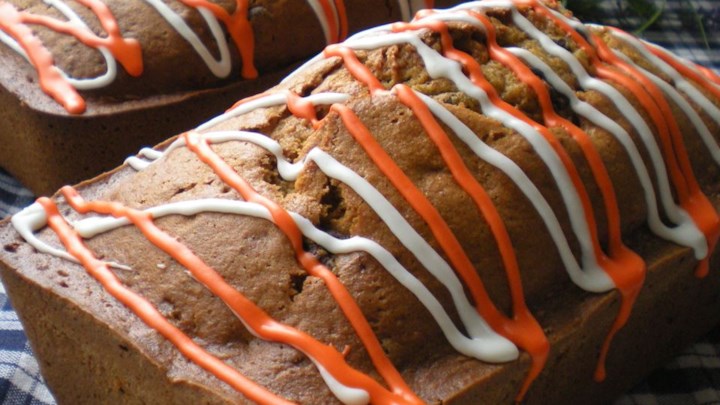 Click this link for the recipe:
and I'll make this:
Harvest Popcorn Mix
It's a modified version of a Christmas Jingle recipe you can find here.
1/2 cup popping popcorn kernels, or 2 bags tender white popcorn
1(12 ounce) bag Vanilla Candy Melts or *Vanilla Almond Bark
2 cups broken pretzel pieces
1- 12 ounce bag of Reese's pieces candy pieces(I usually don't use the whole bag)
Halloween colored sprinkles
Directions
Pop popcorn in a popcorn popper into a large bowl (or alternately in the microwave if using microwave bags of popcorn) according to manufactures directions. Remove any un-popped popcorn kernels. Toss in broken pretzel pieces and Reese's pieces. Melt Vanilla Candy Melts or bark as per package directions, stirring until melted and smooth. Drizzle half of melted chips over popcorn mixture, then stir, tossing gently a few times with a rubber spatula. Then drizzle remaining half of melted chips over popcorn, and gently stir mixture until evenly coated (don't over stir though or your sprinkles wont stick if the white chips begin to set and harden). Pour mixture into a single layer onto wax paper. Sprinkle entire mixture evenly with sprinkles (as many as you'd like) before vanilla chips set. Allow to cool and harden, then gently break into pieces and store in an airtight container.
Pretzel Mummies
I also make these pretzel mummies by dipping the big pretzel sticks in the Vanilla candy melts and then drizzling the candy over the pretzels for the mummy look. I use mini-chocolate chips for eyes.
While I was baking my Pumpkin Bread, Cooper was sitting under the oven enjoying the delicious smell:
This year we got to go to our first Halloween Cupcake decorating party at our friends house. It was so much fun for the kids- and it was a great excuse for the moms to get together and drink some wine!
Knott's Spooky Farm
Every year we take a trip to Knotts Berry Farm for their special Knotts Spooky Farm fun. They have decorations up everywhere, trick-or-treat stations for the kids, specials Halloween shows, and even different "creepy" animals in the barn. Knott's is always fun, but we especially enjoy it this time of year.
Pumpkin Patch
Every year we take a trip to the Pumpkin Patch of course! The last few years we've gone to a local one that has a giant slide, lots of Jolly Jumpers, a petting zoo area, and a few rides. Cooper is a huge fan of Pumpkin Patches. This is a definite must do for the Halloween season!
Halloween Movies and Books
I love any excuse to make a list, so every year I have a list of Halloween movies that we HAVE to watch. The list keeps getting bigger every year! Some of our favorites are:
Hotel Transylvania 1/2/3 3 Movie Collection

The Haunted Mansion

Goosebumps

Monsters University (Blu-ray + DVD + Digital Copy)
and the only slightly inappropriate
We also read Halloween books every night. I buy a few new ones every year. Some of our favorites are:

We're Off to Find the Witch's House

At the Old Haunted House

The Hallo-Wiener
Halloween Craft
Every year I look for ideas on Pinterest for Halloween crafts to make with Cooper. I'm a big fan of things I can make using his handprints, or fingerprints, or even his footprint! Here's a few pictures of things we've made together over the last few years:
Pumpkin Carving
Last but not least, one of our absolute must do traditions is pumpkin carving. I basically do the same thing every year, but my husband will get creative with his. We have yet to attempt the whole stencil thing because that just seems like a lot of work! I always look forward to our pumpkin carving night every year. Some pictures from over the last few years:
That about wraps up my list for how we "Halloween". I'm sure there are a few other things that I'm forgetting about! As you can see, we do our best to thoroughly enjoy this time of year. We of course wrap it up on Halloween with a night of Trick-o-Treating! This year Cooper is going to be Super Mario in a Mario Kart:
Then the next day it will all get packed away until next year. I hope all of you are enjoying all the Halloween fun that comes with this time of the year! Thank you for taking the time to read my post and HAPPY HALLOWEEN!