This past weekend was the kick-off to the Christmas crazies for us! I'm sure it was the same for most of you! I love this time of year. It's hectic, but oh so fun!
We started things off Friday night with a Christmas cookie exchange/Christmas jammy/Gift exchange party! It was a fun night filled with lots of food, wine, gifts, games, and cookies. Our kids all had a blast too(there were about a million of them!). I'm so grateful for these new friendships we've made since Cooper started school. We have so much fun with these people!
The cookies that I brought to the exchange were these ones: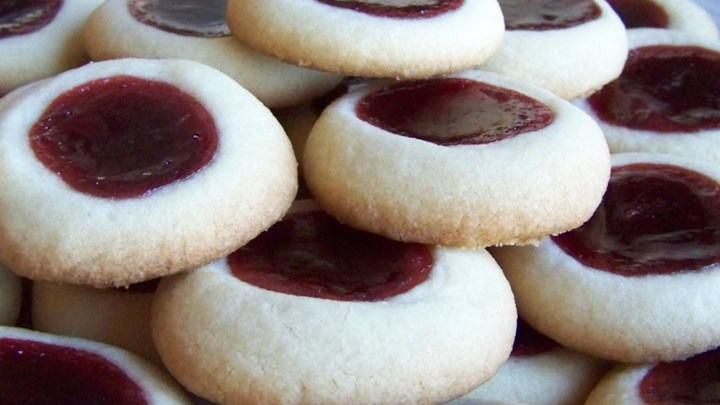 They're called Rosenmunnar cookies- they're like a shortbread cookie with a jam filling. They're super good. Click here for the recipe.
———————
Saturday we met up with my brother, my nephews, and our friends for dinner at Chili's. All the kids love Chili's because of those little screen things! After dinner we went for a walk around Bainbridge Circle, which is a neighborhood that goes ALL out for Christmas. The houses are covered in lights, then the lights are synced to music, which you can also tune into on AM radio if you choose to drive instead of walk. It's pretty awesome! We've made a little tradition out of going to this neighborhood every year. It's so pretty!
————————————
Sunday morning we drove out to Knott's Berry Farm….or technically I guess it's Knott's MERRY Farm this time of year! We had a fun day hanging out with our friends, going on rides, eating unhealthy foods, and we even got to see Snoopy!! I love seeing all the decorations they put up this time of year- the tree is so gorgeous! They even have fake snow(in the form of bubbles) that falls from the sky. Knott's Merry Farm has also become a yearly tradition for us- we always have a great time.
———————————–
It was such a fun weekend, but boy did it fly by! Can't wait for this coming weekend and more Christmastime fun! Hope you had a great weekend too. Thanks for stopping by!